 FESTIVALS & EVENTS
Fun-filled festivals for every month of the year.
Despite Korea's distinct change in weather through the seasons, there are dozens of great festivals happening all year long.
Spring Festival (March to May)
Jinhae Gunhangje Cherry Blossom Festival

The largest of the cherry blossom festivals in Korea, with over 2 million people each year visiting to see hundreds of cherry blossom trees.
Location: Changwon, Gyeongsangnam-do
When: First of week of April (Depends on Cherry Blossom blooming)

Celebrate the generous bamboo plant at this interesting festival that has a lot of different activities, all centered around bamboo along with lots of hands-on activities, including bamboo log rafting and water biking.
Location: Damyang, Jeollanam-do
When: First week of May

Boseong Green Tea Festival Plantation

Explore Korea's largest green tea plantation and see the tea at its peak. Learn about and experience green tea direct from the source. Even pick your own tea for a nice cup at the Boseong Green Tea Festival.
Location: Boseong, Jeollanam-do
When: First week of May

Yeon Deung Hoe Lotus Lantern Festival
Head to Jogyesa Temple in central Seoul and marvel at all the Buddhist lanterns on display. Watch the lantern parade, make your own lanterns, and be entertained by all the cultural performances on offer.
Location: Seoul
When: Last week of April

Summer Festival (June to August)

Incheon Pentaport International Rock Festival

Incheon has Korea's one of the biggest international rock festivals. It is known to be the first and largest rock festival held every summer since 2006.
Location: Songdo City, Incheon
When: Early August

The largest international festival in Korea, the Boryeong Mud Festival is one of the highlights of the year. It's Korea's biggest, dirtiest, strangest festival, and one you'll never forget.
Location: Boryeong, Chungcheongnam-do
When: Mid July

Chimaek, a combination of 'chicken' and 'maekju' (beer), is a festival celebrating one of Korea's favorite food and drink combos. Programs include exhibition and sales of chicken, beer brewers' performances, hands-on experience events and more.
Location: Daegu
When: Early July

Sinchon Water Gun Festival
Grab your water pistol, head down to the main square in Sinchon, Seoul and get ready to get soaked! Watch out, though, as there are some serious water guns being fired on the main stage that will get you soaked.
Location: Seoul
When: Early July

Autumn Festival (September to November)

Busan International Film Festival

Every fall, Busan becomes the mecca for filmmaking, attracting hundreds of renowned filmmakers, movie stars, film lovers and other important figures of the cinema world with the Busan International Film Festival.
Location: Busan
When: Early October

Andong Mask Dance Festival
Featuring more than a week of performances, festivities, and events regarding Korean traditional culture. Besides Korean maskdances, there are also several international performances from Russia, Thailand, Sri Lanka and more.
Location: Andong, Gyeongsangbuk-do
When: Early October

Located in the heart of Seoul, close to Myeongdong and Insadong, this free festival is a great place to spend a few hours walking along the stream, enjoying the lanterns
Location: Seoul
When: First half of November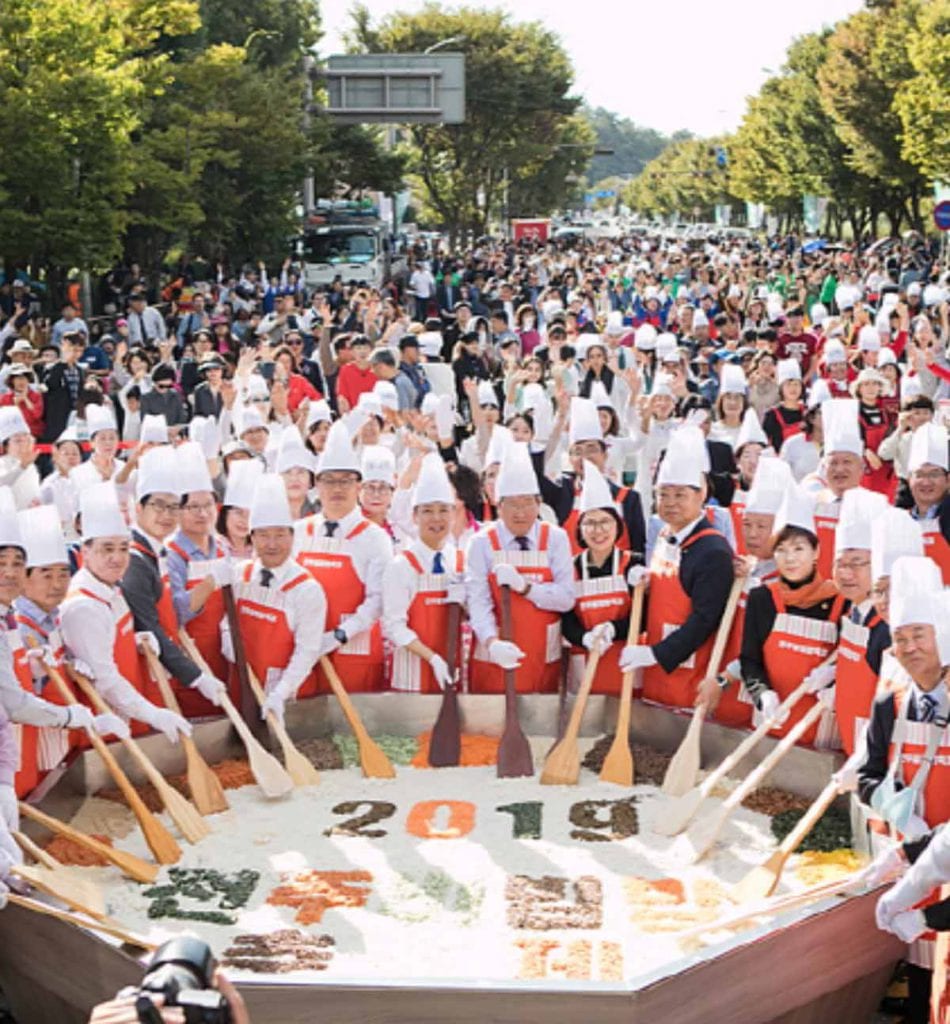 Along with Jeonju's large traditional hanok village and many other cultural attractions, this festival offers various cooking contests, hands on experiences (make your own bibimbap), parades, and cooking concerts.
Location: Jeonju, Jeollabuk-do
When: Early October

Winter Festival (December to February)

Hwacheon Sancheoneo Ice Fishing Festival

This Festival takes place in Hwacheon county in Gangwon-do with plenty of snow and ice for the perfect winter getaway.
Location: Hwacheon City, Gangwon-do
When: Early January

Pyeongchang Trout Ice Fishing Festival

There are few better places to see beautiful snow and icy rivers than in Pyeongchang, home to the 2018 Winter Olympics. Head over to the large icy river and get ready to fish.
Location: Pyeongchang, Gangwon-do
When: December to February

Daegwallyeong Snow Festival

Situated in the 'Alps of Korea', the Daegwallyeong Snow Festival is a festival packed full of snow-based fun and activities.
Location: Daegwallyeong, Gangwon-do
When: Early January